Lighting for Fence, Deck, Dock and More
Select the image below to view the outdoor lighting brochure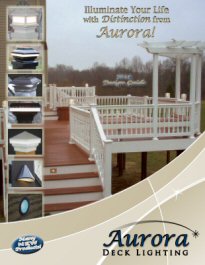 Choose from many styles of high-quality, energy-efficient outdoor lighting options from the best manufacturers available.
Enhance your deck, fence, stairs, dock or other outdoor living space with a professionally installed light system made of rust-free, powder-coated aluminum for durability.
3 power sources (low voltage, line voltage, solar)
14 designer colors
10 sizes for posts 2" – 6.5"
Products include Deck Lights ~ Railing Lighting ~ Solar Post Caps ~ Solar Accent Lighting ~ Deck Accent Lighting ~ Solar Fence and Deck Lighting and more.